"The Yorkshire Mistress Of Self-Expression..."
The Bleeding Obvious has one single member: Jessica Rowbottom. A self-confessed 'queerdo' from Yorkshire, she is back on the road touring her original LGBTQ+ piano cabaret show with new songs alongside old favourites.
The self-titled debut The Bleeding Obvious released in 2016 was a blaze of genres featuring an impressive array of vocalists, musicians and an orchestra. She followed it up in 2017 with the sophomore album and touring show Rainbow Heart: an odyssey about her LGBTQ+ identity and coming out of the closet.
Her new work however is rooted in optimism while firmly giving a big middle finger, covering themes such as the Me-Too movement, "Pride-washing" and increasing transphobia within the UK.
"I wrote the first two albums during the Summers of 2016 and 2017," explains Jessica. "Wonderful sunny days, lots of time in my home studio, plenty of natural light! That light can be a double-edged sword as the nights draw in: I got quite melancholy as autumn hit and this time queer negativity online was an extra 'bonus'. Don't get me wrong, I toured and that was fun but sometimes it was a real effort to stay afloat."
"Other things got in the way as well - Brexit, the pandemic, that sort of thing - so album 3 took a back seat although many of the songs were in my live shows already."
Jessica counts artists such as Swing Out Sister, Saint Etienne, Roísín Murphy and M83 as influences and as a result her work sashays effortlessly between genres including pop, classical, electro, chiptune, spoken word and disco. A childhood education as a chorister at Wakefield Cathedral influences harmonies and arrangements as much as her record collection.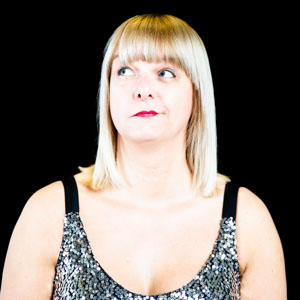 She hasn't just been bound to the studio though: The Bleeding Obvious' second album Rainbow Heart led to her first nationwide tour with dates in Bristol, York, Nottingham, Totnes, Brighton, Leeds and Manchester among others. She played to a packed off-West End theatre for Pride In London, was the guest of LGBTQ+ choir The Pink Singers for a sold-out show at Cadogan Hall, led a thousand-strong crowd in a singalong of her new song One Girl Girl at her home-town Pride in Wakefield, she hit the front page of online streaming service Twitch while performing a special set for Trans Pride Brighton and took her show to a run at the prestigious Edinburgh Fringe. For someone who didn't want to do live shows that's something of a turnaround.
Jessica laughs, "This keeps coming back to bite me - when I said I wasn't keen on doing live shows, I'd anticipated one gig to launch the debut album. Then Mum bought me a proper decent stage piano, I went back to my school music teacher for extra coaching and live cabaret followed. I'm addicted to it now!"
It all leads to favourable comparisons with the work of musical comedians Fascinating Aïda, Victoria Wood and Tim Minchin. A good thing?
"Oh I think so - humour defuses the stress of the situation. When I tour I meet all these wonderful people, queer audience members who come up after the show and say 'You just described my life!'. I don't think that'd happen if it was all stern and serious. Folk identify with the gender and sexuality issues I sing and talk about but if there's a comedy side then it sticks."
Activism by the back door? Quite probably, but it works.
"There's a song I perform now called 'Colours With Pride' which is about Section 28 in the 1980s: the law prohibiting promotion of homosexuality in schools. When I sing it, many of the audience are genuinely surprised some branches of our government are actively trying to reintroduce legislation. We have to raise awareness and fight it, however that may be."
Although Jessica favours a piano on-stage, her trademark musical layering is very much present in recorded work. Her home studio is affectionately known as The Fishbowl and contains a diverse range of instruments including keyboards, organs, and synthesisers, acoustic and electric guitars, an accordion, ukulele, omnichord, recorder, melodica, theremin, modified childrens' toys such as a Speak'n'Spell and a BBC Microcomputer she's owned since the late 1980s.
So when are we likely to see album 3, whatever it will be called? "I actually got my bum into gear recently so I'm optimistic it'll be out in 2023. One foot in front of the other, right?"
The Bleeding Obvious continues to perform live shows and plans to release the perpetually-delayed third album "soon".
If you'd like to catch a show by The Bleeding Obvious, upcoming dates will be announced soon - full details and tickets are available in the gig guide.

"A Yorkshire lesbian icon"
Exposed Magazine
"Tightly produced and relentlessly upbeat, we both left grinning."
Andy Lake, Yellow Mug Theatre
"Entertaining, heartfelt and oftentime heartbreaking"
Sarah Cobham, Forgotten Women of Wakefield
"Vibrant and passionate"
Stereo Stickman Music
"Brilliant! Fantastic music!"
Gayle Lofthouse, BBC Radio Leeds
"A tonic to the heart."
Rainbow Exotic Music